[I think those two words pretty much sum up Mama Pea.] After discovering her blog I couldn't wait to share it. Every cartoon just makes me smile.
I would like for you to meet Shannon, aka Mama Pea: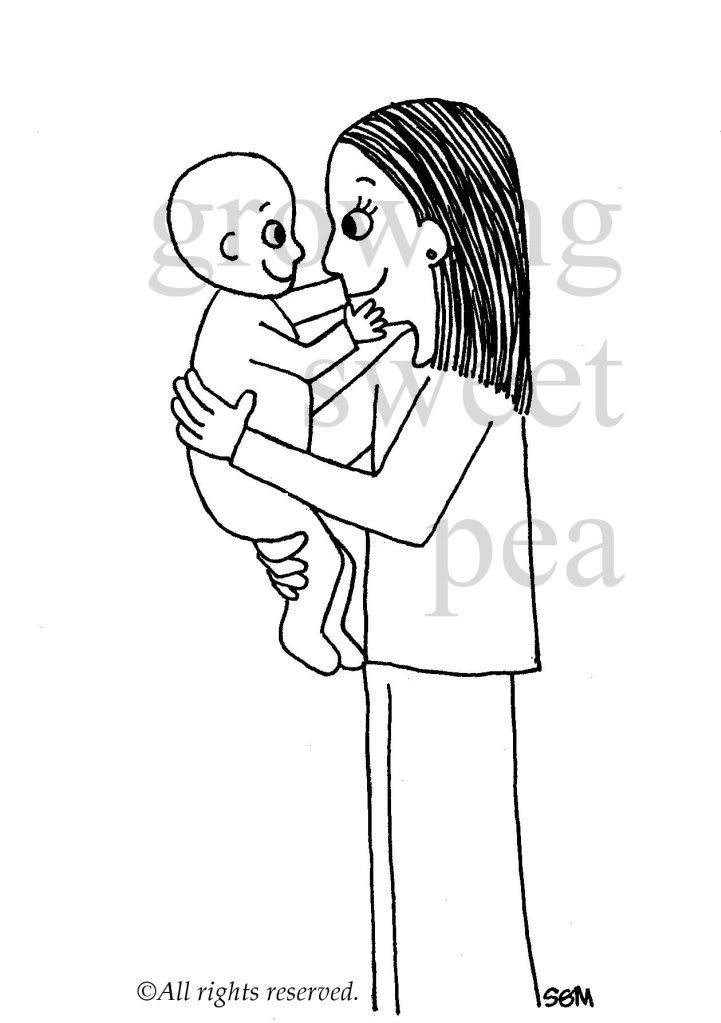 When did you first begin creating art?
I can't remember! I have always loved creating art. As a little girl, I was always doodling and drawing pictures of my family and friends whenever I had the chance, often on paper napkins, and all over my school notebooks; not just portraits, but cartoon-style illustrations of funny events, inside jokes and things that happened in school and at home. My mom has saved all kinds of things I drew at every age; my friend Wava remembers my drawings of funny things that happened to us back in high school; my former co-workers from an office I worked at tell me they still have my cartoons on their walls. The style for my cartoon people sort of developed itself the more I kept drawing throughout elementary and junior high and then has stayed pretty much the same ever since then.

What is your favorite or most sentimental creation and why?
I've drawn many cartoons of my family and friends, so lots of those pictures have sentimental value. But my answer to this question is a two-way tie between two drawings that are not cartoons:
One is a drawing in oil pastel that I made in high school art class. It's a picture of a running shoe – specifically, the racing shoes I wore to compete in high school track and cross country meets. The shoes also happened to be my high school colors: purple and gold. This picture reminds me of high school track, my uniform, the races I ran, my coach and teammates, as well as my favorite art teacher and classmates and all the projects we did – lots of old memories that I treasure, involving two of my favorite things, running and art.
The other is the first drawing I ever created, when I was still a baby sitting in a high chair. My mother had it matted and framed (sorry I don't have a photo). It may look like it's just crayon scribbles, but my mom points out my choice of complementary colors (red and green) and the aesthetically pleasing composition, symmetry and placement of the scribbles. She insists she saw talent from my very first drawing.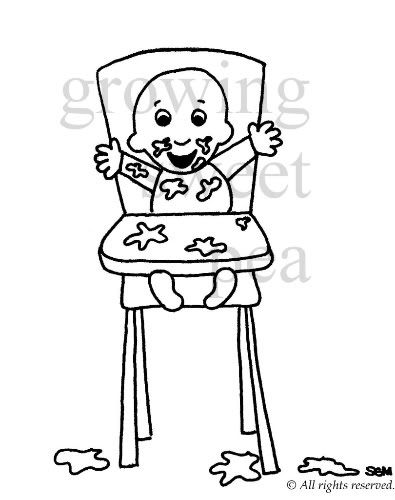 What people/things inspire your work?
People in general, but especially my own family and friends, and things that happen: inside jokes that you had to be there to understand, as well as common, human moments that anyone can relate to, moments that are funny, silly, happy, bittersweet, heart-breaking, thought-provoking… I had a baby this past year, and becoming a mom has provided me with a whole new world of inspiration for cartoons, which led me to start my blog, www.growingsweetpea.com.
Is there a project you have always dreamed of creating? What would it be?
When I was 10, I wanted to be an animation artist for Disney movies like Aladdin and The Little Mermaid. I've sometimes wondered about illustrating children's books or greeting cards, or having my own comic strip in a magazine or newspaper. The city I live in has a lot of mural art on the sides of buildings, and I often wonder what it would be like to have such a huge blank space to make a picture.
to check out more of her adorable work [trust me, there are more you will love].