Today I would like for y'all to meet Aimee the colorful artist behind Artsyville. I have several pieces of her work in my office. I love the happy colors and encouraging words she shares through her art.
When did you first begin creating art?
Hi Lindsay! Thanks so much for asking me to be part of your I Heart Art series! I've been hand lettering, drawing, painting, and playing around with color off and on for 25 years. It was only in the last 5-10 years, though, that I brought all of those components together to find my own creative niche. Once I got into a daily rhythm of experimenting, practicing, and blending colors and letters around my own handwritten poems and phrases, I found that my own artistic style had been there all along.
What is your favorite/most sentimental creation you have made? Why?
There are two that are close to my heart. The first is Creative Fire. It was one of the first pieces in my Artsyville style, and it zips up my philosophy on inspiration: mainly, that it arrives on its own clock, and who knows how long it will stay, so make the most out of it while it's here! The second is a love letter to my creative hometown of Lawrence, Kansas. It's a quirky, zany little college town in the middle of the prairie. It was an environment that fueled my creative development at a time when I really needed it. We moved away last year, so reading that poem makes me feel connected to the happy, creative, carefree life we had there.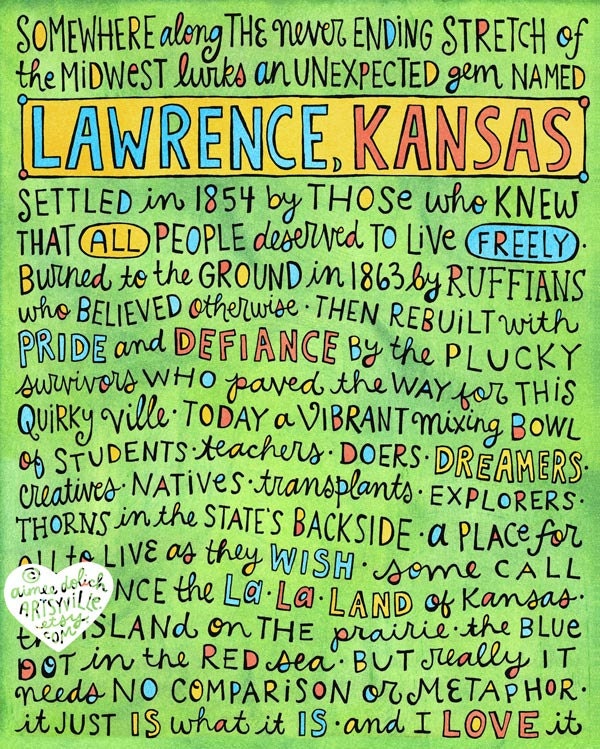 Is there a project you've always dreamed of creating? What would it be?
There was, and I did! Earlier this year I self-published The Things We Do, a zine-style book that I handlettered/drew about all the stuff we do as parents -- things that we're either too busy to remember or too tired to give ourselves credit for doing. I polled everyone I knew, and the list kept growing and growing until I finally decided to get it all out on paper. The planning, organization, layout and lettering took about a year. It will never truly be complete (just like parenting), but getting to my own finish line on that project was quite satisfying. It also made me realize that for all of our perceived differences, we parents all have (and do) a lot more in common than we might think!
As for links, I take my doodles everywhere -- just type in Artsyville and you'll find me there!